VSU Police Department 
Emergency Phone: (804)524-5411   /   Non-Emergency Phone: (804)524-5360
---
Mission Statement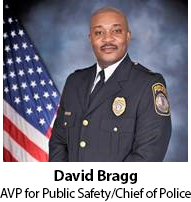 "The mission of the Virginia State University Police Department (VSUPD) focuses on excellence, to provide leadership through innovation and creativity in a dynamic, diverse, and professional organization. We will strive to create a safe and secure learning environment, by dedicating ourselves to raising the level of professionalism, customer service, and preparedness to meet the needs of the campus community. We will ensure a safe environment for living, learning, teaching, and fellowship through these means. By providing proactive service, multilayered community integration we will accomplish our mission in accordance to the University's vision of excellence." 
---
Overview
The Virginia State University Police Department (VSUPD) is located on campus and is responsible for providing a safe environment for the VSU Community, twenty-four (24) hours a day, seven (7) days a week. VSUPD is comprised of 25 sworn law enforcement officers, 20 security officers, and 20 public safety staff members. Sworn officers have full police powers and authority as outlined in the Virginia Campus Police Act § 23.1-812. Other VSUPD divisions include, Investigations, Emergency Communications, Security, Parking Enforcement, Fire and Safety Operations, and Records Management. 
VSUPD is charged with and dedicated to the task of protecting life and property on the campus of the University. The ultimate objective of the department is the establishment and maintenance of a campus environment that is safe, sane, secure, and conducive to high-quality endeavor. This is achieved through educational programming and the development of personal relationships that foster a positive community. The department works hand in hand with other departments and student organizations to design programs to educate students about safety and security, the Clery Act, rape aggression defense, property-theft prevention, and workplace violence.
---
What Should I Do if I Am Stopped by the Police?
A Guide for the Students, Faculty, and Staff Members of Virginia State University

The Virginia State University Police Department has deep respect for the diversity of our community. We are committed to serving and protecting our community in a fair and impartial manner that promotes respect and inclusiveness of all members of our community. We are dedicated to protecting the rights of all community members at all times. More information...