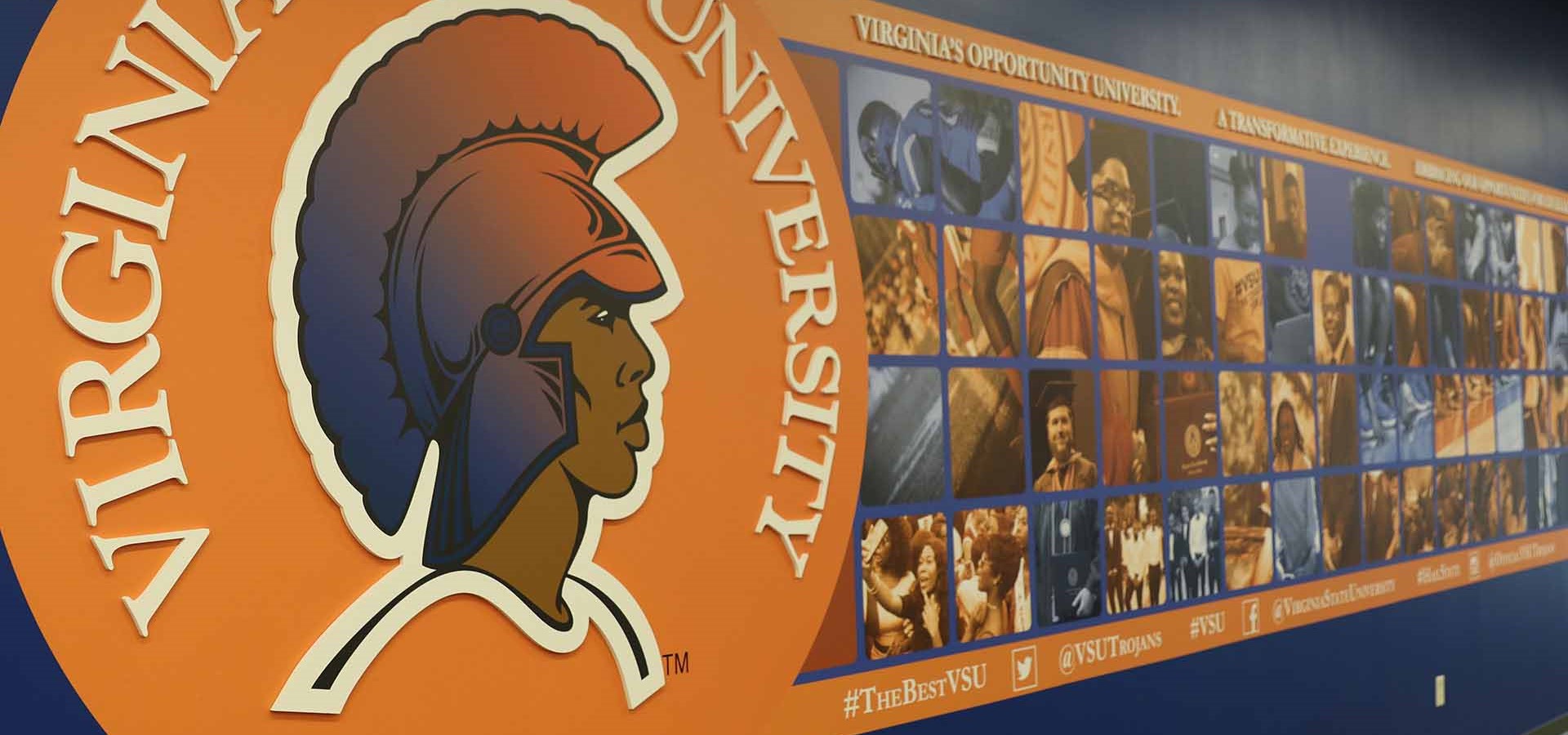 The College of Education was awarded $2.41 million by New York-based Wallace Foundation to participate in $47-million initiative to improve how aspiring principals are trained and to be part of a national effort to share lessons with the broader field.
The National Science Foundation awarded Virginia State University a $3 million grant to work with school districts in Petersburg, Richmond, New Orleans and Philadelphia to increase the number of underrepresented minority students entering college with the skills to be able to pursue a STEM major and career.
The U.S. Department of Education awarded the University's Educational Opportunity Centers a grant in the amount of $236,900 for a period of five years. The EOC program provides counseling and information on college admissions to qualified adults who want to enter or continue a program of postsecondary education.
In the fall of 2016, the University received a $20,000 grant from The Home Depot as part of their Retool Your School Program.
A nearly $300,000 federal grant will help Virginia State University bring more minority students into the study of climate change and its impact on the nation's food supply. Virginia's U.S. Senators Mark Warner and Tim Kaine awarded the University $297,479 from the U.S. Department of Agriculture's National Institute of Food and Agriculture for a program called "Collaborative Efforts to Enhance Climate Change Curricula for Underrepresented College and High School Students." The University will lead the project in collaboration with Delaware State University in Dover, Del., and Morgan State University in Baltimore.
In 2016, the University opened the Academic Center of Excellence (ACE) as a one-stop hub for first-year students to receive career and academic advising and tutorial services.
In April of 2017, Professor Dr. Coray Q. Davis, chair of the Department of Technology in the College of Engineering and Technology, was named by the American Council on Education (ACE) as an ACE Fellow for the 2017-2018 academic year.
In March of 2017, Mr. Andrew Wynn received the 2017 Virginia Council of Teachers of Mathematics William C. Lowry Mathematics Educator of the Year Award for the University level for outstanding teaching in mathematics. Mr. Wynn is an instructor in the Department of Mathematics and Economics.
In March of 2017, the Association for Communication Excellence, a national organization of agriculture and natural resources communication professionals, awarded Virginia State University's marketing and media campaign for the Spanish-language agricultural program conducted at Randolph Farm a Silver Award in the category of "Marketing and media relations programs for targeted publics."
In January of 2017, Byron Greenberg, Ph.D., MPH, a license clinical psychologist and associate professor in the Department of Psychology, was awarded the Chris Hatcher award for "New Vision." Dr. Greenberg and Dr. Wayne Wallace, a forensic consultant at Strategic Solutions and an adjunct professor of Criminal Justice and Psychology at Indiana Wesleyan University, won this award for their presentation titled "Police Lethal Force: Fact, Fiction, Perceptions and Paving a Way Forward." The Chris Hatcher award is offered annually by the Society for Police and Criminal Psychology to the presenter(s) whose presentation is seen as at the cutting edge and addressing critically important and progressive issues in the field.
In November of 2016, Professor Dr. Karen Faison in the College of Natural and Health Sciences was selected to participate in the inaugural class of Richmond Memorial Health Foundation's Equity and Health Fellowships. Eighteen Fellows representing local government and nonprofit organizations will work together over a nine-month period to develop an agenda addressing equity and health in the region.
Dr. Crystal Wynn, assistant professor in the Department of Family and Consumer Sciences, was selected as the Area 6 Outstanding Dietetic Educator in the Dietetic Internship category for 2017. Area 6 consists of all programs in Maryland, North Carolina, Virginia, Delaware and Pennsylvania. The Outstanding Dietetics Educator Award recognizes the teaching, mentoring and leadership activities of faculty and preceptors in dietetics education programs that are accredited by the Accreditation Council for Education in Nutrition and Dietetics.
For the 2016 fall semester, the University welcomed more than 1,000 new freshmen. The Class of 2020 represented a 30 percent increase from the 2015 freshman class.
In May of 2016, Virginia State University was named one of the nation's top 20 "Best Colleges for African Americans" by ESSENCE magazine.
Virginia State University ranked as the No. 12 institution for historically black colleges or universities (HBCUs) in America by College Choice.
The Reserve Officers Training Corp program is nationally ranked in the country. Two alumni are in the United States Army Cadet Command Hall of Fame.
Trojan Kennedy James represented Virginia State University as a 2016 White House Initiative HBCU All-Star.
Virginia State University received the first Outstanding State Stewardship Award from Gov. Terry McAuliffe for preserving Summerseat, a historic house built in 1860 located near the Ettrick campus.
There is an influx of students at VSU. This is due to the fact that the fall 2017 number of first-time freshmen (1,139) is nearly 50 percent larger than the number of first-time freshmen two years ago (766). In addition, this year's number of first-time freshmen is 10 percent larger than last year's number of first-time freshmen, which was 1,037.
On Friday, July 15, Virginia State University was the recipient of two 2017 historically black colleges and universities (HBCUs) Awards during the 2017 HBCU Awards ceremony presented by the Thurgood Marshall College Fund. President Makola M. Abdullah was named the 2017 HBCU Male President of the Year. Also, the University's Reginald F. Lewis College of Business was named the HBCU Best Business Program.
Virginia State University student Joel Goddot, a computer science major, was awarded the Educational Testing Service (ETS) Presidential Scholarship for HBCU Students for the 2017-2018 academic year. Goddot is one of only eight students selected and he is the first VSU student to be awarded the ETS Presidential Scholarship.
Twenty-two Virginia State University students participated in the 17th Annual Leadership Institute organized by the Thurgood Marshall College Fund (TMCF) in Washington, DC. Nearly 400 students participated this year from TMCFs 47 member institutions. The VSU contingent was tied for the second-largest amongst the member schools.
Freshmen Onzae Carter and Rhonda Cummings both received the Department of Defense Scholarship through the Thurgood Marshall College Fund. They each received $60,000.
In February of 2017, Chesterfield County Public Schools and Virginia State University announced the first of a two-part partnership effort designed to support Ettrick Elementary's return to full accreditation. The University provides 25 to 40 students from VSU's College of Education and other student-led support organizations to help with targeted interventions related to math at Ettrick Elementary.
In March of 2017, the Reginald F. Lewis College of Business at Virginia State University was awarded reaffirmation of accreditation by the prestigious Association to Advance Collegiate Schools of Business (AACSB), International. Following an in-depth review of the College's programs and personnel, AACSB granted a five-year extension of reaccreditation to the Reginald F. Lewis College of Business for demonstrating continuous improvement and for its exemplary work in engagement, innovation and societal impact.
In March of 2017, Petersburg City Public Schools and Virginia State University established a program to support students at J.E.B. Stuart Elementary and Peabody Middle to improve academic achievement while providing training for future teachers. Students from VSU's Department of Teaching and Learning within the College of Education tutor students in math for the remainder of the 2016-2017 school year. Tutors work during the school day with students in grades 3-5 at J.E.B. Stuart and with students in grades 6-8 at Peabody Middle.
The Department of Art and Design was named the Best Fine Arts Program at a historically black college or university according to HBCU Digest.
In June of 2016, five Virginia State University students were among more than 1,150 American undergraduate students from colleges and universities across the U.S. selected to receive the prestigious Benjamin A. Gilman International Scholarship. The scholarship is sponsored by the U.S. Department of State's Bureau of Educational and Cultural Affairs. Four students traveled to China, and one student traveled to India.
The Criminal Justice program ranks third out of 40 Virginia institutions analyzed by correctionalofficer.org.
Virginia State University's bachelor's degree programs in electronics engineering technology and mechanical engineering technology in the College of Engineering & Technology have been reaccredited by ABET. ABET is the global accreditor of college and university programs in applied and natural sciences, computing, engineering, and engineering technology. ABET accreditation ensures that programs meet standards to produce graduates ready to enter critical technical fields that are leading the way in innovation and emerging technology.
College of Agriculture was one of 15 exhibitors and vendors out of 235 who won an Award of Excellence at the State Fair of Virginia this year. The award is given annually to those vendors and exhibitors who score 100 percent on judging criteria including visual appeal, cleanliness of space, friendliness of staff and public engagement.
Alumna Christine Darden, Ph.D. is referenced in the book "Hidden Figures", written by Margot Lee Shetterly, which resulted in the Oscar-nominated film "Hidden Figures." The book and film tell the story of a team of African-American women who provided NASA with important mathematical data needed to launch the program's first successful space missions. Darden is a retired NASA mathematician, data analyst and aeronautical engineer.
Alumna Klinette H. Kindred was appointed as the second bankruptcy judge in the Alexandria Division of the U.S. Bankruptcy Court for the Eastern District of Virginia. Judge Kindred is the first African American and first female to be appointed to the Bankruptcy bench in the Eastern District of Virginia.
United States Court of Appeals for the Fourth Circuit Court Chief Judge Roger Gregory is the first African American to serve as the 17-judge court chief jurist. In the late 2000, during a congressional recess, outgoing President Bill Clinton appointed Gregory to the 4th Circuit to fill a newly created seat. Gregory was then nominated to the same position by President George W. Bush in 2001. Alumnus Chief Judge Gregory is the only person to be appointed to a federal appeals court by presidents of two different parties.
In June of 2016, alumna Deshauna Barber was crowned Miss USA. In January of 2017, Ms. Barber was one of the nine finalists out of 86 contestants for Miss Universe.
Alumnus and former Professor of Military Science Lieutenant Colonel Retired Jona McKee was inducted into the national ROTC Hall of Fame at Fort Knox. This is a significant accomplishment as only seven individuals from across the country were inducted to include a sitting United States Senator and four General Officers.
Alumna 1st Lt. Bennis M. Blue was the first female paratrooper to be assigned to the 82nd Airborne from June 1978 until April 1979 at Fort Bragg in Fayetteville, N.C. While a student at Virginia State University, Lt. Blue was commissioned as an officer through the Women's Army Corps Program.
Alumna Dr. Lataisia C. Jones has become the first African-American student to graduate from Florida State University with a Ph.D. in biomedical sciences. Jones' Ph.D. research is about evaluating neurological movement disorders using bimolecular techniques.
Alumnus Michael Rainey was awarded the 2017 HBCU Kings and Queens Advisor of the Year Award.
Alumnus Eldon Burton is Style Weekly's 2017 Top 40 Under 40. At the age of 30, Burton is likely the youngest district director for any member of Congress, but he still has a great deal of experience dating back to his days at Virginia State University, where he received his bachelor's and master's degrees. Burton is the District Director for U.S. Rep. Donald McEachin.
Alumnus Rodney Robinson was named the 2018 Richmond Public Schools Teacher of the Year.
Alumni Colonel James S. Moore, Jr. and Colonel William L. Thigpen were nominated for the rank of Brigadier General, the fourth highest rank that can be achieved in the United States Army. Ten other graduates of VSU have earned the rank of General Officer and the promotion of these two officers means that VSU has produced more General Officers than any other historically black college or university with the exception of South Carolina State University, which is a former senior military college. This will also be the first time in VSU history that four Trojan Warriors will serve on Active Duty as General Officers at one time.
In April of 2017, 14 student-athletes were recognized for Arthur Ashe Jr. Scholar Awards by Diverse Issues in Higher Education magazine. The Arthur Ashe, Jr. Sports Scholars Awards honors undergraduate students who have excelled in the classroom as well as on the athletic field. In addition to their athletic ability and academic performance (3.2 cumulative GPA or higher), Arthur Ashe, Jr. Sports Scholars demonstrate a commitment to community service and student leadership.
In January of 2017, Athletic Director Peggy Davis was named the incoming president for the Minority Opportunities Athletics Association. In March of 2017, Mrs. Davis was named to Diverse Issues in Higher Education's list of 25 Outstanding Women Leaders in Higher Education.
The Men's Basketball Team won the 2017 Freedom Classic Basketball Championship.
In December of 2016, Trojan Football Defensive End Bryant Frazier was named the 2016 Willie Lanier Award winner by the Richmond Touchdown Club. The award is given annually to the best non-NCAA Division I athlete in the Commonwealth of Virginia. In November of 2016, Frazier was the Central Intercollegiate Athletic Association Defensive Player of the Year.
In 2016, Head Football Coach Reggie Barlow was named Newcomer Coach of the Year.
The Men's Basketball Team was named the 2015 CIAA Men's Basketball Northern Division & Tournament Champions. The team also advanced to the NCAA Division II Atlantic Region Playoffs.
During the 2015-2016 academic year in the Department of Athletics, several Trojans received honors.Head Men's Basketball Coach Mr. Lonnie Blow Jr. was named CIAA Coach of the Year.
Ms. Cameryn Smith was named the CIAA Woman of the Year.
CIAA Female Rookie of the Year for Women's Tennis was Ms. Sydney Yao.
CIAA Male Rookie of the Year for Men's Tennis was Mr. Sultan Kenes.
Women's Basketball Head Coach James Hill, Jr. was named Coach of the Year by SportsTalk 1450 WCLM for the 2016-2017 season. Hill finished the 2016-2017 campaign with a dominant 22-8 record, shared the CIAA Northern Division Title, advanced to the final day of the CIAA Basketball Tournament, and a 10th place ranking in the NCAA Division II Atlantic Region.
Head Football Coach Reggie Barlow set the tone for the 2017 season. His win over the Division 1 Spartans of Norfolk State University earned him the week one Central Intercollegiate Athletic Association (CIAA) Coach of the Week honor.
Senior running back Trenton Cannon secured a spot on the highly anticipated BOXTOROW Preseason All-America Football Team. Cannon was also named the CIAA Offensive Back of the Week for his performance against Johnson C. Smith University on September 9.
The Virginia State University Men's Cross Country team secured the 2017 CIAA Men's Cross Country Championship Title under the direction of Head Coach Wilbert Johnson on October 26 in Salem, Va.
Senior running back Trenton Cannon became Virginia State University's all-time leading rusher in career yards at 3,672. He also broke his own school record for most rushing yards in a season at 1,280.
Men's Cross Country Head Coach Wilbert Johnson was named the CIAA Men's Cross Country Coach of the Year. Head Football Coach Reggie Barlow was named CIAA Football Coach of the Year. Senior running back Trenton Cannon was named CIAA Offensive Player of the Year.
The Trojan Football Team was named the 2017 Northern Division Champions. The Football Team was undefeated for the 2017 season with a 10-0 overall record.
On November 11, 2017, the Trojan Football Team won the 2017 CIAA Football Championship Title.