President Makola M. Abdullah, Ph.D.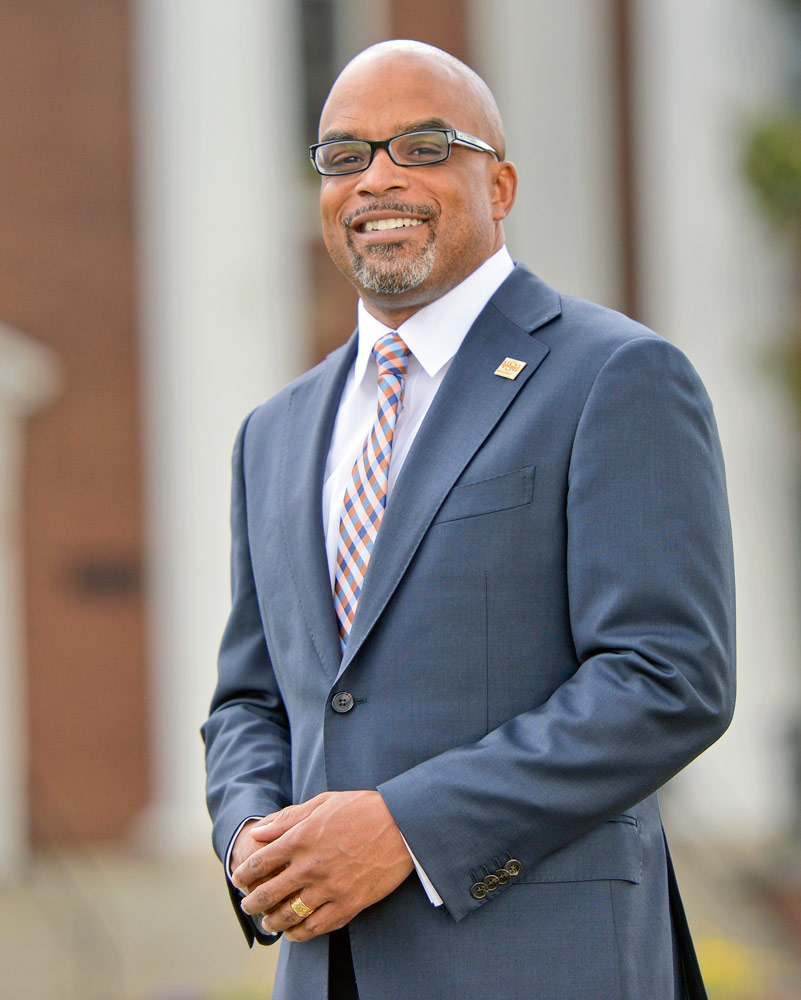 "Serving as President of Virginia State University has been the highlight of my academic career. I have witnessed firsthand the transformative power of an education. I work with amazing faculty and staff members who show an unwavering commitment to excellence in education. I extend my gratitude to the VSU Board of Visitors for their vote of confidence and for giving me the opportunity to continue the GREATER work at Virginia State University."
---
Dr. Makola M. Abdullah began his VSU career in February 2016 with an unwavering dedication and commitment to excellence. As a new president, he outlined his core beliefs that became the foundation of his work for VSU: beliefs in God, family, the transformative nature of education, and in Virginia State University. With that foundation in mind, President Abdullah and his new administration began planning the 2020-2025 Strategic Plan: Preeminence with Purpose, to chart the University's path to continued growth and excellence. His plan set forth the next chapter for VSU which focused on six areas: Student Opportunity and Access, Academic Excellence, The Holistic Experience for Students, Enhancing the Land Grant Mission of the University, Advancing the VSU Brand and Financial/Operational Effectiveness.
Under President Abdullah's leadership and guidance, VSU experienced the single largest year-to-year increase in enrollment in more than a decade and the highest retention rate in more than twenty years. The University also increased the 4-year graduation rate to the highest recorded rate in the University's history. Virginia State University also placed in ESSENCE magazine's top 20 "Best Colleges for African Americans" and in U.S. News and World Report's "Top 30 in the Best Overall HBCUs for 2022". The University ranked in the top 30% in the "Performers on Social Mobility" list, Top 10 in Student Retention Programs at HBCUs, and top 15% of Bang-for-your-Buck institutions in the Southeast Region of the United States. The University has also extended its academic offerings with newly added undergraduate, graduate, and doctoral degrees. In addition, the University offers fully online programs/degrees and a free tuition program for students from area high schools.
Under Dr. Abdullah's guidance, Virginia State University's year-end financial reserves have more than tripled. The University also received a $30 million gift—the largest single donor gift in the University's history—aiding the university in growing the investments from approximately $40 million to $80 million. In addition, under Dr. Abdullah, VSU has more new infrastructure happening concurrently than at any point in its 140-year history.  This includes a new 30,000-square-foot admissions building, a research and cooperative extension facility, improvements to Rogers Stadium, and a new $120 million Alfred W. Harris Academic Commons—the largest building ever constructed on the VSU campus. In 2021, VSU also renamed four buildings to honor Black women who have made significant contributions to the University.
Under the leadership of President Abdullah, in 2018, Virginia State University successfully completed its reaffirmation of accreditation with the Southern Association of Colleges and Schools Commission on Colleges (SACSCOC). The University was reaffirmed for 10 years with no recommendations. The President has led the launch of several major initiatives since taking office. These include the establishment of the John Mercer Langston Institute for African American Political Leadership to assess, develop and empower African American leaders; the establishment of The Center for Policing Leadership and Social Justice to address the critical divide between law enforcement and communities of color; and the establishment of the Office of Diversity, Inclusion and Belonging on campus to promote good relations toward and support those who may be subject to discrimination. 
Boards and Committees
During his tenure at VSU, President Abdullah has become a national leader—fighting on the behalf of the transformative work of Virginia State University and all HBCUs. He has served on a plethora of boards and committees to include the following:
Chair of the Infrastructure Committee for the U.S. President's Board of Advisors (PBA) on Historically Black Colleges and Universities
Chair of the Council of Presidents for the Association of Public Land-Grant Universities (APLU)
Chair of the Council of Presidents for Virginia Institutions of Higher Education
Member of the 1890s Presidents for the Association of Public Land-Grant Universities (APLU) (Former Chair)
Member of the Central Intercollegiate Athletic Association (CIAA) Board of Directors (Former Chair)
Member of the Executive Council for the Southern Association of Colleges and Schools Commission on Colleges (SACSCOC)
Member of the Big Brothers Big Sisters of America National Board
Member of the Central VA Truist Regional Advisory Board
Member Virginia Historical Society Board of Trustees
Member of the A.L. Philpott Manufacturing Extension Partnership (dba GENEDGE) Board of Trustees
Member of the Richmond Forum Board of Directors
Member of the Virginia Museum of History and Culture Board of Trustees
Former member the Lake Forest Academy Board of Trustees (Former Chair)
Education and Background
Prior to his appointment as President of Virginia State University, Dr. Abdullah served as Provost and Senior Vice President at Bethune-Cookman University in Daytona Beach, FL (2013-2016), Provost and Vice President for Academic Affairs at Florida Memorial University in Miami Gardens, FL (2011-2013), and Dean and Director of 1890 Land Grant Programs at Florida Agricultural and Mechanical University in Tallahassee, FL (2008-2011).
Dr. Abdullah is a Chicago native. He earned his undergraduate degree in civil engineering from Howard University and his doctorate and master's degrees in civil engineering from Northwestern University. He is a member of Alpha Phi Alpha Fraternity, Incorporated.
Honors and Awards
President Abdullah was named the HBCU Male President of the Year in 2017 and was selected as 2021 Recipient of the Howard University Alumni Award for Distinguished Postgraduate Achievement. He is also the youngest African American to receive a Ph.D. in engineering.
Family
President Abdullah is married to Ahkinyala Cobb-Abdullah, Ph.D. Dr. Cobb-Abdullah is the Dean of the School of Arts and Sciences and the Director of the Center for STEM Diversity at Virginia Union University in Richmond, Virginia. Dr. Cobb-Abdullah earned a Bachelor of Science in Biology from Tuskegee University. She is a two-time alumna of Florida Agricultural and Mechanical University, where she earned a Master of Molecular Biology and Doctor of Philosophy in Environmental Biomolecular Sciences.
Dr. Abdullah and Dr. Cobb-Abdullah are the proud parents of a son, Mikaili, and a daughter, Sefiyetu, who both are college graduates. Mikaili is a graduate of Morehouse College and a current Ph.D. student at the Morehouse School of Medicine. Sefiyetu, soon to be a two-time graduate of Virginia State University, is scheduled to receive her Master of Science in Computer Science in December 2022.