Join the Trojan Explosion
Are you a high school student, transfer student, or current Virginia State University student interested in joining the Trojan Explosion? If so, please fill out our student interest form. 
Complete the Student Interest Form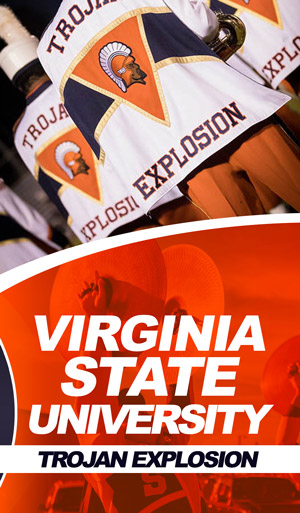 We are committed to excellence at Virginia State University and look forward to welcoming outstanding students to our university and band program. For graduating seniors interested in attending VSU, we recommend several steps to help with this process.
Be sure to check out the brochure!
If you have not applied, apply to our university and learn more about degree programs. The admissions deadline is May 1st. THERE IS NO APPLICATION FEE. 
Additionally, we ask that you include Virginia State University on your (FASFA) Free Application for Federal Student Aid form. Your parents will need to help you with this. To apply for Financial Aid, please visit fafsa.ed.gov.
Scholarship Opportunities
Band scholarships are granted on a year-to-year basis. Scholarship amounts vary depending on your playing ability as well as the current needs of the band program.  Students interested in band scholarships must schedule an audition. We conduct auditions via Zoom, Skype, Google Meet, or unlisted YouTube videos.  Schedule your audition today to receive your scholarship offer!  
Scholarship Audition Requirements 
Wind Instruments: 
Up to 12 Major Scales & Arpeggios (We randomly call approximately 4-5 scales)
Chromatic Scale played 2 octaves 
Prepared Piece (All-Regional or All-State Etude, Lyrical or Technical Etude in the Classical style) – No Marching Band music.
Sight-Reading (We will provide music for the Sight-Reading portion of the audition) 
Percussion:
Standard Rudiments (Single Stroke Roll, Double Stroke Roll, Five Stroke Roll, Seven Stroke Roll, Flam, Flam Tap, Flam Accent, Flam Drag, Single Drag Tap, Single Paradiddle, Single Ratamacue, Single Paradiddle-Diddle, Double Paradiddle, Cheese, Flam Five, Book Report) 
Prepared Solo (Should showcase your musicality and technique) 
Sight-Reading (We will provide music for the Sight-Reading portion of the audition) 
For students that have experience with Mallet Percussion: Up to 12 Major Scal
Find out more about our various academic scholarships.    
Auxiliary Tryouts
Find out how to join the Essence of Troy Dancers, "The Jewels of the CIAA."