Career Expos

Mark Your Calendars & Register Today For VSU'S 2020 - 2021 Career Expos


Virginia State University invites you to attend our 2020 - 2021 Career Expos. Our goal is to connect students, employers and graduate schools in a meaningful manner that will help students explore opportunities and obtain internships, experiential learning and employment leads. Students and employers can register through Handshake by July 13th,2020. The 2021 Virtual Career Expos will be open for registration starting November 1st, 2020.


Virtual 2021 Spring Internship & Career Expo**
February 11, 2021, 10:00 am - 3:00 pm
Register at https://joinhandshake.com/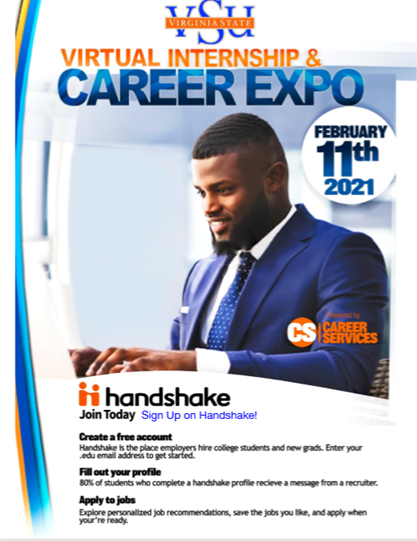 Virtual Entrepreneur Expo**
NO FEE
March 10th, 2021, 1:00 pm to 3:00 pm Spring 2021


Career Fair Advice
Employer Career Expo Sponsors
2019 Fall Business & STEM Career Expo
Gold Sponsors


For information regarding attendance and participation in previously held career expos and/or to host an on-campus recruiting event such as a workshop, information session, mix & mingle, etc., please contact jlyons@vsu.edu.
For more information, contact Career Services at (804) 524-5211 or careerservices@vsu.edu.