Let's Hear It For The Band: VSU Marching Band To Be Featured On National Television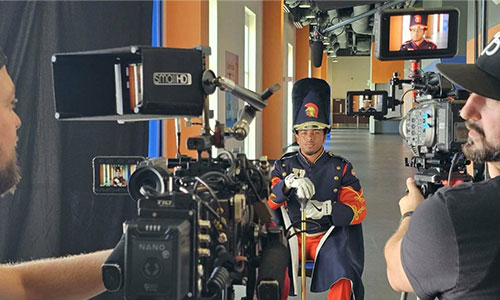 The Trojan Explosion continues to garner national attention on Fox Sports and NBC Today Show.
The Virginia State University Trojan Explosion Marching Band continues to get national recognition. The Band will be featured on Fox Sports during the upcoming college football season. The leading national sports network is preparing a television segment highlighting the best HBCU bands in the country and has selected the VSU band to participate.
VSU Director of Marching and Pep Bands, Dr. Taylor Whitehead, believes this will be another excellent opportunity to grow the program and gain exposure. In February, the band was invited to perform at the White House and also on The NBC Today Show.
"We're doing some major things," said Whitehead. "The band is growing and doing amazing performances, so I believe people want to be a part of it. I think this an excellent opportunity for us, and more importantly, the university and our students."
While the exact date for the Fox Sports spotlight is unknown, Whitehead expects it to air during the second week of the season after Labor Day.
Meanwhile, The Trojan Explosion will again be featured on the NBC Today Show. The show's producers say the February appearance was so well received that they plan to re-air it next week. The performance will be re-run on August 31 during the 3rd Hour of the Today Show.
The Trojan Explosion Marching Band has a busy schedule over the next few months, including notable performances at the following events.
August 26 - National Battle of the Bands in Houston, TX
August 31 - Watch the re-run of the band's performance on The Today Show
September 3 - HBCU Labor Day Classic Battle of the Bands - Charlotte, NC
September 24 - HBCU Week Battle of the Bands in Wilmington, DE
"Our Band is another example of Greater Happens Here," said Dr. Tia A. Minnis, Interim Provost And Vice President for Academic Affairs. "These students are not only superior performers but are also academic scholars who excel and lead throughout our campus, and these invites are proof that their hard work shines brightly. We are beyond proud of Dr. Whitehead and the work that he is doing with our nationally renowned Trojan Explosion Marching Band."