VSU Computer Science Program Earns The Prestigious Title Of National Center Of Academic Excellence In Cyber Defense
Virginia State University program is recognized by the National Security Agency for demonstrating exceptional education and research capabilities in cyber defense.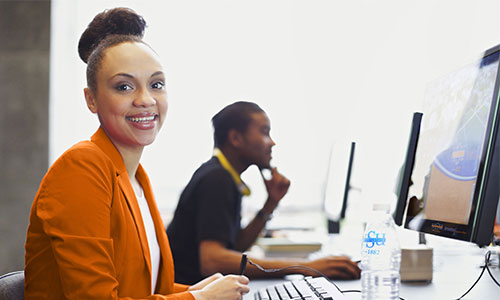 The Virginia State University Computer Science program has received the prestigious designation as a National Center of Academic Excellence in Cyber Defense (CAE-CD). Achieving the highly respected title of CAE-CD is a tremendous feat. It is a testament to the program's dedication to excellence and highlights the university's commitment to fostering expertise in cybersecurity and information assurance. The National Security Agency (NSA) awards this honor only to academic institutions that have demonstrated exceptional education and research capabilities in cyber defense.
The CAE-CD designation benefits the Computer Science Department and the university. It enhances the department's reputation and visibility, attracting talented students and faculty members who are passionate about cybersecurity. The designation also fosters partnerships and collaborations with industry, government agencies, and other academic institutions involved in cybersecurity research and development. These partnerships provide opportunities for internships, research projects, and employment prospects for students and faculty.
"We are immensely proud of the Computer Science program at Virginia State University for being designated a National Center of Academic Excellence in Cyber Defense by the National Security Agency," said Dr. Donald E. Palm, VSU Executive Vice President/Provost. "With this prestigious designation, we look forward to attracting top talent, forging meaningful partnerships, and further advancing our curriculum and research efforts to address the evolving challenges of the digital world."
One crucial aspect of achieving the CAE-CD designation is the recognition of the department's curriculum and its alignment with the NSA's stringent standards. The ABET accreditation of the Computer Science program further validates the department's commitment to maintaining the highest educational standards and ensuring that students receive a rigorous and comprehensive education in all areas of computer science, including cybersecurity.
"The designation is a momentous accomplishment for our Computer Science program and the University," said Dr. Dawit Haile, Dean of the VSU College of Engineering and Technology. "This recognition not only solidifies our position among the top institutions in the nation but also underscores our commitment to providing a comprehensive and cutting-edge education in computer science and cybersecurity."
The initial establishment of the undergraduate track in Information Security in 2009 and the Information Assurance track in 2010 at the graduate level reflects the department's proactive approach to adapting to the growing demand for cybersecurity professionals. The Department of Homeland Security funded the establishment of both program tracks.
The CAE-CD designation brings increased resources and support from the NSA, including access to grants, scholarships, and research funding. These resources enable the department to further enhance its cybersecurity curriculum, expand research capabilities, and stay at the forefront of technological advancements and best practices.