VSU Student Emigrates From Nigeria And Overcomes Burn Injury To Graduate With 4.0 GPA
Virginia State University will confer nearly 300 degrees at the 2022 Fall Commencement.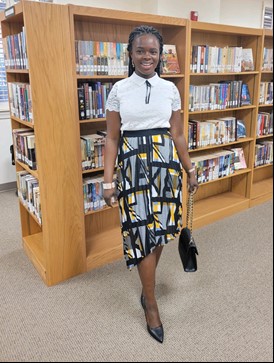 29-year-old Mofolake Odubonojo is one of nearly 300 graduates who will receive a degree from Virginia State University on Saturday, December 10, 2022. Ms. Odubonojo will graduate from the VSU College of Humanities and Social Sciences with an impressive 4.0 grade point average. Her remarkable accomplishments include overcoming injuries from a traumatic burn accident, immigrating to the United States from Nigeria, and maintaining a full-time job throughout her academic career. 
Ms. Odubonojo says her higher education academic career began in Nigeria, but it was sidetracked by a hot oil cooking accident that landed her in the traumatic burn unit.
"All I knew was that all of a sudden—my body was burning. The hot oil spewed all over my face, chest, and legs. I was rushed to the clinic for treatment before I was transferred to a burn center," said Odubonojo. 
The accident delayed Odubonojo's final exams, and she had to repeat the semester to graduate. She eventually graduated with an Associate's Degree in Science Laboratory Technology. Years later, she moved to America to pursue her interest in psychology. She visited her brother in the U.S. and spoke to her sister-in-law, who attended Virginia State University. 
"She told me that VSU is an outstanding school. It feels like you are among people who support each other," said Odubonojo. "You're going to feel at home if you go to VSU." 
Once in America, she received another degree from a local community college and then transferred to Virginia State University. She discovered her "Greater" at VSU. She has a 4.0 grade point average and will receive her Bachelor of Science degree in Psychology on December 10, 2022, from VSU. She also tutors other students and works full-time as a residential counselor for individuals with special needs. She plans to pursue her Ph.D. in mental health counseling. Mofolake Odubonojo is an example of the VSU mantra that "Greater Happens Here." 
The Virginia State University Fall 2022 ceremony will begin at 10:00 AM on Saturday, December 10, 2022, in the VSU Multipurpose Center. The President of the Virginia Region at Truist Financial, businessman, philanthropist, and motivational speaker, Mr. Thomas L. Ransom, will serve as the keynote speaker.