VSU Announces Fall 2022 Commencement Speaker
Truist Bank Executive and HBCU strategist will address the University's more than 240 graduates.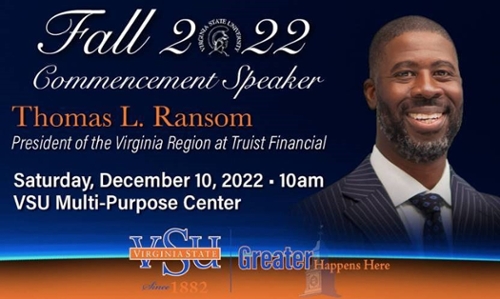 Virginia State University is pleased to announce that Mr. Thomas L. Ransom will serve as the fall 2022 commencement speaker. Mr. Ransom currently serves as the President of the Virginia Region at Truist Financial, where he integrates and brings the full set of Truist Financial solutions to the market. Before this role, Mr. Ransom served as the first Head of Sales and Client Experience Strategy for Truist Financial. He is an inaugural member of the Banks' Operating Council and the Executive Response Operations team.
Mr. Ransom served as the inaugural Chair of Truist Financials' corporate business resource group for Black teammates and allies and sat on the Diversity, Equity, and Inclusion Committee. In that role, he produced strategies that helped the bank retain, advance, and recruit diverse associates and clients. Mr. Ransom led the Truist HBCU strategy, a groundbreaking collaborative effort to help ensure the success of those students and schools. Representing Truist, Mr. Ransom has launched a pioneering partnership with the United States Black Chambers, Inc. to address the urgent crisis facing black-owned businesses in America. He served on the Professional Advisory Council for the University of Phoenix School of Business. He helped develop an entrepreneurship curriculum to support increased access to capital for minority-owned businesses.
Mr. Ransom is a recognized motivational speaker assisting people in tapping into purpose. Mr. Ransom is a twenty-plus-year veteran of Truist and has led high-performing banking teams throughout the Mid-Atlantic. In 2022, Mr. Ransom was sworn into the Virginia Governor's Advisory Council on Revenue Estimates, where he applies his economic expertise to help move the state forward. Thomas has led, chaired, and been a member of over a dozen high-performing boards of directors and currently serves on the national board of INROADS, Grandbridge Real Estate Capital, Truist Leadership Institute, Virginia Foundation for Independent Colleges, RVA757, Management Round Table and the Virginia Business Council. Mr. Ransom also serves as the Chairman of the Corporate Advisory Council for the U.S. Black Chambers and on the Boards of the Virginia Chamber of Commerce and the Virginia Bankers Association.
Virginia State University will hold its fall 2022 Commencement Ceremonies on Saturday, December 10, 2022, at 10:00 am in the VSU Multipurpose Center.