VSU will Now Require all Faculty, Staff, and Students to be Vaccinated for COVID-19
Dear Virginia State University Students, Faculty, and Staff,
Governor Ralph Northam announced yesterday (Governor's Executive Directive Number Eighteen, 2021) that Virginia will require its state workers to show proof that they are fully vaccinated or be tested for COVID-19 every week. This policy will go into effect on September 1.  The Governor's action comes as the highly transmissible Delta variant is driving up cases across the Commonwealth and around the country, primarily among unvaccinated people. "The only way to end this pandemic is for everyone to get vaccinated against COVID-19," said Governor Northam. 
Virginia State University has continued to monitor the science and data regarding the spread of COVID-19.  As numbers continue to rise, vaccination is our best line of defense.  Therefore, in compliance to the Governor's mandate, for the well-being of our community and to enable our return to a full and safe living and learning experience this academic year, Virginia State University will now require all faculty, staff, and students to be vaccinated for COVID-19 as we begin the fall 2021 semester.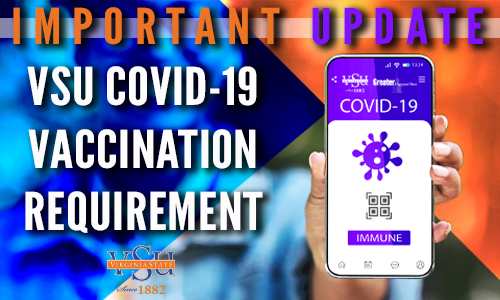 We acknowledge that the timing of this decision is not ideal, however, we believe it is the right decision based on the rapidly changing public health data and scientific evidence that supports the effectiveness of the COVID-19 vaccines.  The latest reports from the Centers for Disease Control and Prevention shows COVID-19 cases, hospitalizations, and deaths are once again increasing in nearly all states. The uptick is fueled by the new Delta variant, which is more contagious than past versions of the virus.  The highest spread of cases and severe outcomes is happening in places with low vaccination rates and among those who are not vaccinated. Therefore, our mandate to require the vaccine is guided by our commitment to the health and wellness of our VSU community. We believe this decision is an invaluable step toward our goal for a fully vaccinated and safe campus community. 
Verification of vaccination status will be required for all VSU faculty, staff, and students.  Please see our vaccination requirement FAQs located on the VSU website for specific instructions for document submission.  If you have not been vaccinated, we will offer testing and first doses on campus beginning Friday, August 6, 2021.  Proof of a "first dose" must be submitted by August 21, 2021. Proof of FULL vaccination (both doses) must be presented no later than September 20, 2021.  
The COVID-19 vaccines are authorized by the FDA for emergency use, with full approval of one of the vaccines expected within a few weeks. Clinical tests and scientific evidence show that the vaccines are safe and effective to reduce severe illness, hospitalizations and death and can also help to prevent further spread of the virus. Nonetheless, we acknowledge that vaccine hesitancy exists for some in our campus community.  To show our commitment to a fully vaccinated campus community, we will offer financial incentives to all vaccinated faculty, staff, and students who provide proof of their full vaccination (details available in FAQs). 
While it is our mandate that all students, faculty and staff report their vaccination status, we recognize that medical conditions or religious beliefs may be a barrier to compliance. Therefore, any student, faculty, of staff member may apply for an exemption. Please see the FAQ's for additional information about exemptions. 
VSU will continue to follow recent CDC guidance by requiring mandatory mask and face coverings inside all on-campus spaces regardless of vaccination status. We have provided additional information and answers to your specific questions under our FAQs located on the VSU website. We strongly believe that requiring the vaccine is the most effective method that each of us can take to protect ourselves, our friends, our family, and our campus community while helping to end this deadly and dangerous COVID-19 pandemic.  
We look forward to seeing each of you back at your vibrant Home on the Hill as we continue to work together to stay healthy and safe together.
With Trojan Pride,
Makola M. Abdullah, Ph.D.
President