University Counseling Center
COVID-19 Medical Exemption Form         COVID-19 Religous Exemption Form        After-Hours Counseling Support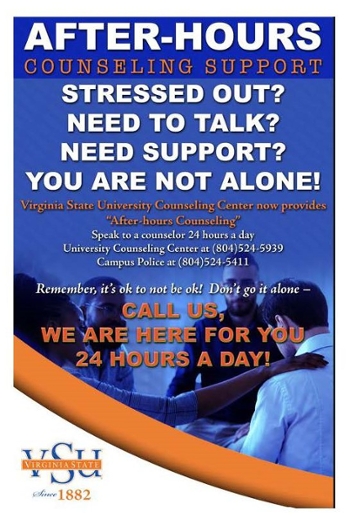 Welcome to the University Counseling Center! University Counseling Center (UCC) is committed to excellence and believes in the value of the whole student. We strive to be student-centered and to remove barriers to student success. University Counseling Center values individual and cultural differences with a commitment to human rights and equality. We embrace innovative clinical services, training of emerging mental health professionals, and research-based clinical practice.
The UCC Houses Four Specialized Services 
Provides individual, couples, and group therapy - addressing a variety of issues that impact on the student population. Psychiatric services are also offered as an optional mental health treatment component.
Provides on-campus supportive counseling and off-campus community resources. 24-hour help lines available.
Focuses on issues associated with alcohol use/abuse. Services include an interactive alcohol programs for those administratively and judicially referred.
Provides reasonable accommodations and requires documentation of disability from a qualified professional. Offers state of the art assistive technology.
Covid-19 Mental Health Resources
Other Services
Consultation
Training
24-hour Crisis Intervention
Contact Us
Virginia State University
University Counseling Center
Room 409 Memorial Hall
Important Numbers

804-524-5939
804-524-5411  (24-hour help line)
804-504-7044 (Fax)
Office Hours

8:00 a.m. – 5:00 p.m., M-F