Pregnancy in College
Pregnant, Breastfeeding, Chestfeeding while in College
Yes, it is a thing and according to a 2014 study more than five million undergraduate students are pregnant and parenting. If you happen to be pregnant and/or parenting, Virginia State University has outlined some resources and policies to ensure you succeed.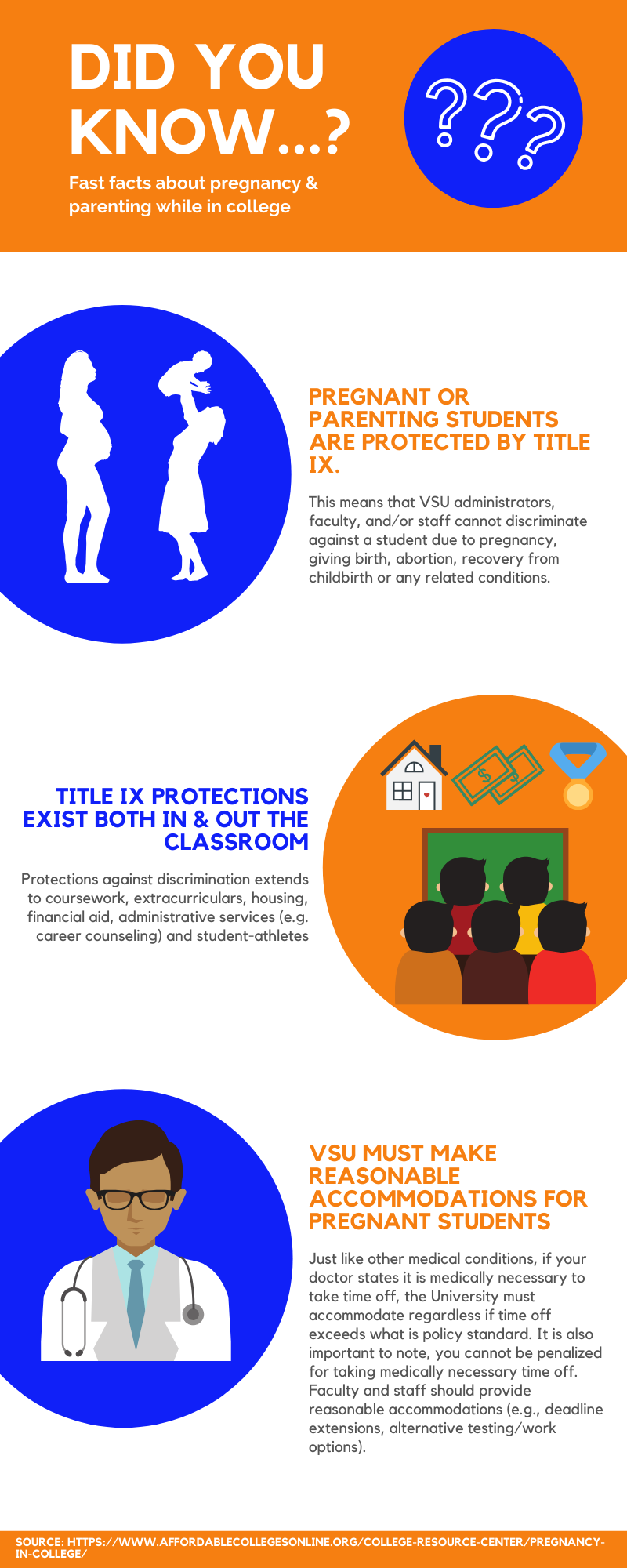 Breastfeeding, Chestfeeding, & Pumping 
Deciding to breastfeed or chestfeed is a personal choice and VSU wants to honor your decision. Often students who are considering these options may have questions or fears about breastfeeding while on campus. Below is information to assist students with making an informed decision about their options on campus to breastfeed and/or pump.
What are your rights?
Just as Title IX prohibits discrimination against pregnant and students who are parenting, that also includes students who are breastfeeding and/or pumping. VSU, per requirement of Federal policy, will provide the following:
A designated, sanity, space to breastfeed and/or pump
Student workers will be given additional breaks to breastfeed and/or pump
Students will be granted an excused absence if they need to breastfeed and/or pump during class time.
Faculty will allow students additional time during long exams to breastfeed and/or pump
Students' grades will not be impacted (positively or negatively) due to breastfeeding and/or pumping.
Students will be offered an opportunity to make up assignments that may have been missed due to breastfeeding and/or pumping
Quick Tips
Get to know VSU and the resources.

Contact an Advocate to learn about spaces on campus to breastfeed and/or pump. Take time to map out the nearest location based on your class schedule.

Bring resources everywhere

As if you did not have enough to bring to campus, but if you forget your pumping equipment that can present a problem. Be sure to consider whether your pump requires an electrical outlet or where will you store your milk.

Talk to your professors

This may be uncomfortable and/or stressful, but an Advocate can assist you with communicating your needs and circumstance with faculty. It is recommended that you reach out to your professors sooner rather than later for reasonable accommodation requests.

Schedule in breaks

When possible, plan, plan, plan. College can be stressful and adding breastfeeding and/r pumping can intensify that feeling. Try to plan your course schedule to allow for breaks for pumping and/or breastfeeding; hydration; and eating.
Frequently Asked Questions (FAQs)
Where can I breastfeed on campus?
Can I breastfeed my baby in class?
Can I bring my baby to class?
Can I miss class because of breastfeeding and/or pumping?
Resources
The Baby Center
Text 4 Baby
Planned Parenthood  
Lamaze
Health Resources & Services Administraiton Maternal & Child Health  
Healthy Moms, Healthy Babies  
The Pregnant Scholar  
Women, Infant & Children Program