Political Science & Public Administration
Welcome to the Department of Political Science and Public Administration at VSU.
Our dedicated faculty and staff work closely with students to prepare them for a variety of careers in political science, public administration and policy, and international relations. Our program is designed for the scholar who is looking to change the world through policy, the scholar who is looking to turn their activism into action, and the scholar who is still trying to figure it out. Many of our students go on to find fulfilling careers in either the private sector or in local, state, and federal government.
Our faculty members not only present the knowledge you need in the classroom, but the department's internship program provides unique opportunities for our students to be paired with professionals in public service, community service, law, environmental activism, and political campaigns.
The department works with the Office of the Governor, the General Assembly, the City of Petersburg, the City of Richmond and Chesterfield County, as well as law firms and other private entities in Virginia, Washington D.C., and New York City to provide internships throughout the school year as well as summer internships to our scholars. In D.C., for example, students could have the opportunity to work with the Environmental Protection Agency (EPA). In the spring, students can opt for an internship with the Virginia General Assembly.
The department also offers its students an opportunity to hear directly from leading voices in the field through our Executive Speakers Series. We host an annual African American Political Convention for students throughout the region to hear how the field of politics shapes our everyday lives. We sponsor field trips to events such as the Congressional Black Caucus' Annual Legislative Conference. Our students are also encouraged to join any of several student organizations at VSU related to political science including The Association of Political Science (TAPS) and Pi Alpha Delta Pre-Law Society.
Students can pursue a Bachelor of Arts degree in Political Science, as well as a minor in Political Science and a minor in Public Administration.
There is also a non-degree Pre-Law Program open to all VSU students interested in learning more about law.
The Political Science and Public Administration supports the John Mercer Langston Institute for African American Leadership.
---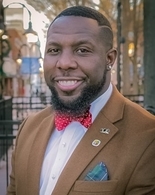 Department of Political Science and Public Administration
Dr. Wes J. Bellamy & Pre-Law Advisor
Interim Department Chair
College of Humanities and Social Sciences
Box 9065
Virginia State University, VA 23806-0001