Administration
Dean of the College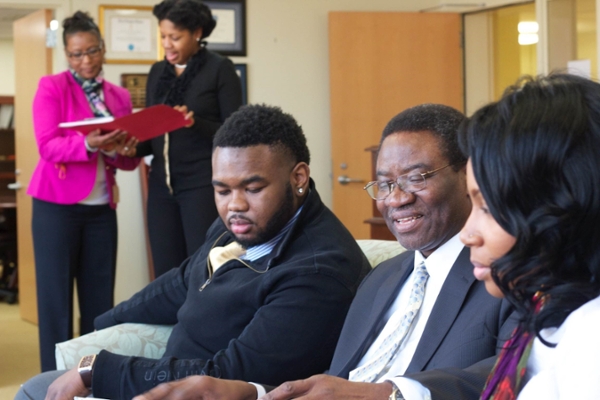 In the announcement of Dr. Emmanuel Omotayo Omojokun as Dean of the Reginald F. Lewis College of Business in 2014, the Provost and Vice President of Academic Affairs at the time, wrote: "For over 20 years at Virginia State University to include as Professor, Chair of the Department of Computer Information Systems, and Associate Dean; the University has called upon Dr. Omojokun to lead and/or assist with various campus-wide committees and information technology projects and systems.  Highly regarded by colleagues and students across the University, he has consistently demonstrated exemplary commitment to VSU's mission and principles."
Customer service and commitment to excellence in the Reginald F. Lewis College of Business begins with Dr. Omojokun. In his capacity as Dean, Dr. Omojokun has created a culture that celebrates our students – always putting the students first in everything we do. He also provides needed support for faculty and staff in the College. 
Dr. Omojokun obtained his Ph.D. in Computer Science from the University of Colorado at Boulder, Colorado. He is a Professor in the Department of Computer Information Systems and his teaching areas include Cybersecurity, Computer Networks, and Computer Programming Languages. He has authored and co-authored many peer-reviewed journal articles and conference proceedings.  Over the years, he served as principal investigator, co-principal investigator, and project manager of many research projects funded by the Department of Defense, Department of the Army, Defense Information Systems Agency, IBM, and National Science Foundation.
His wife of over forty years, Mrs. Rachel Temidayo Omojokun, is very devoted and supportive. They have five great children: three sons – Morayo (MD), Olufisayo (Ph.D. in Computer Science), Olushola (Computer Scientist); and two daughters - Olanrewaju (MD) and Tolulope (MD). Dr. Omojokun and his wife currently have seven grandchildren.
Associate Dean, Department Chairs and Directors
Associate Dean – Dr. Venkat Mummalaneni
Chief Financial Officer – Valerie Berry
Chair of the Department of Accounting and Finance – Dr. Hari Sharma
Chair of the Department of Computer Information Systems – Dr. Ephrem Eyob
Chair of the Department of Management and Marketing – Dr. V. Mummalaneni
Director of Academic Advising and Professional Enhancement – Sharon Taylor
Director of Corporate Relations – Jonathan Young
Director of the Center for Entrepreneurship – Dr. Patrice Perry-Rivers
Coordinator of Accreditation – Felicia Turner
Information Technology (IT) Manager – Portia Robinson