Department of Computer Science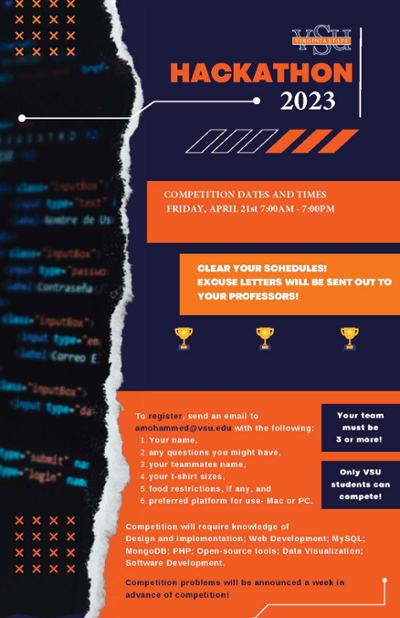 Virginia State University's Department of Computer Science is dedicated to nurturing and challenging our students to become the industrial leaders of tomorrow – to be problem solvers, project leaders, communicators, and ethical professional citizens of a global community.
About the Department
The Department of Computer Science offers two degrees: Bachelor of Science (B.S.) in Computer Science; and Master of Science (M.S.) in Computer Science. A concentration in Information Security is available within the undergraduate Computer Science program. In addition, students can obtain a minor in Computer Science.
The undergraduate Computer Science program is accredited by the Computing Accreditation Commission of ABET, www.abet.org.
Our close collaboration within the College of Engineering and Technology and with the University's other excellent Colleges creates rich options for practice and research.  In addition, our numerous relationships and partnerships with industry and government entities provide students with numerous experiential learning opportunities during the summer and academic year.
Our Mission
The mission of the Department Computer Science is to provide excellent education and research opportunities to a diverse student body in order to prepare them for productive careers in industrial, governmental, and academic settings within the rapidly evolving fields of computing.